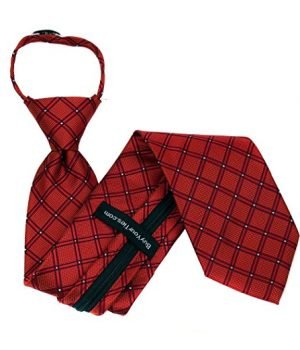 Ties are a man's best friend when it's time to dress up, but knotting traditional ties is hard. And in the modern world everyone is busy so tying a tie should be the last thing to worry about taking up so much time.
So how does a man look awesome without the headache of the Windsor knot? By wearing a zip up tie, that's how. The zip up tie comes already tied for you so the knot will always look perfect. No need to fight with the fabric to make it look good. Also the tie is easily adjustable. The zipper can be zipped up as high or low as you want it to go. You don't have to worry about joking yourself accidentally. They are also a time saver as you don't have to spend any time tying or adjusting and readjusting ad nauseum.
Just put it on and go! The zip up allows the wearer comfort, adjustability, and a perfect knot every time which is just what the modern man needs.
This article lists the best brands and styles of the zip up tie to improve your wardrobe and save you some time in the morning before work!
Perfect, every day. Maybe the greatest advantage of using zip up ties is wearing a perfectly tied tie every day. Reusable zip ties are pre-knotted and you don't have to worry about getting your knot right every morning.
Comfort is king. Reusable zip ties allow you to adjust your tie to the perfect tightness in a matter of seconds. Zipper ties work with a concealed zip that can be zipped up as far as you want it to go, allowing you the control of a traditional tie and comfort of a clip on tie.
Just get up and go. Zipper ties are full on speed. Just take a shower, pull on a shirt, zip up your tie and off you go.
If there was ever a thing as tie-perfection, this just might be it. Besides the time-saving comfort of being a zip up tie, it's the type of design that just goes with anything. Do yourself a favor and add a classic to your collection.
Level of attention: Comfortably blending into the crowd. Message: Nothing gets me down. Price: Average. Seller: Tiemart via Amazon
Solid ties often convey a solid message to those around you. You are just as bold as your tie is. You can choose from just about every color imaginable when it comes to zip up ties, but black is still versatile, stylish, and beautiful.
Level of attention: Moderate. Message: I am really good at dressing myself. Price: Average. Seller: NYFASHION101 via Amazon
Plain black and white: boring. Black and white with fine details and zipper tie comfort: We have a winner that will soon become one of your favorites. While the design of this tie is simple, it's eye-catching and stylish.
Level of attention: That guy with the tie. Message: I woke up this awesome. Price: Affordable. Seller: H2H via Amazon
Wearing a dark suit every day can really make the world a dull place. While suits may be the perfect choice for the office, it's often your choice of tie that adds flair and interest to your outfit. This beautiful colored zip up tie will add a lot of wow to your standard dark attire.
Level of attention: In a crowd of dark suits, you'll be the one that catches the eye. Message: Wow, this man has style. Price: Average. Seller: BYT via Amazon
Red is power! While solid red can be perceived as threatening, a cleverly patterned choice can help your co-workers and clients see your capabilities without making them feel like they have to stand up against you.
Level of attention: Red is always high. Message: Give me whatever you want me to handle, I am strong enough for any responsibilities. Price: Average. Seller: Buy Your Ties via Amazon
Bring on the color without blinding the crowd. Using colorful ties in subtle designs are the perfect way of showing off a bit of personality without trying to steal the limelight. If your cupboard does not have a tie like this in it, it's time to add this versatile piece to your collection.
Level of attention: High for all the right reasons. Message: I am steadfast and strong but I still have a lot of personality. Price: Average. Seller: Buy Your Ties via Amazon
You are a man who can stand by your point of view and show integrity and style with the same comfort that you tie your leather shoes in the morning, right? This modest gray tie with subtle red stripes is perfect for showing that you are a trusted and respected man who stands for what you believe.
Level of attention: Surprisingly high. Message: I am stylish, dependable, trustworthy and traditional. Price: Very affordable. Seller: H2H via Amazon