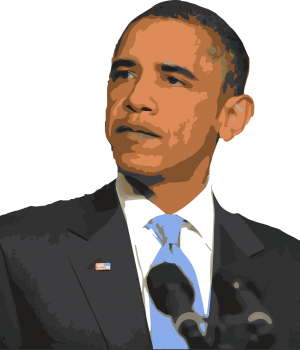 As a master of words and with a stately appearance Barack Obama gives off a strong air of trustworthiness, steadiness, and reliability. His neck ties naturally give off the same vibe. Instead of standing out on their own, his ties draw attention to the personality of the person wearing it.
The ties serve to complement and enhance the wearer's presence rather than overwhelm them. The colors he often wears are dark gray, navy, or wine with a simple yet elegant design which convey a sense of quiet confidence and puts anyone the person addresses at ease. He doesn't go for the flashy or even bright colored tie with a complicated design. Instead he goes for the slightly understated, but proud look.
The dark colors are calm and elegant. The simple and subtle designs he often wears conveys the same sense of serenity and elegance that speak to a soft spoken, but strong power. This is an attractive quality in any man who wants to be daring, but genteel, confident, but humble, outspoken, but respectful.
For that reason, you should consider looking at this selection of different neck ties and emulating the well-spoken Barack Obama by adding them to your wardrobe.
Color: Barack Obama neckties are usually strong colors in deep tones that generate feelings of trust and steadiness. Navy, gray and wine red are definitely at the top of his favorites.
Design: A simple design can be seen on most Obama ties – stripes and solid color are most favored while other designs in simple and strong color schemes are also worn from time to time.
Trust: Former President Barack Obama chooses his ties very wisely. The combination of trust-building colors and strong but simple designs carry a strong message of steadiness, reliability, and strength of character.
Here are a few great choices if you need some of Barack Obama's style in your wardrobe:
Strong and steady colors such as navy, gray and wine are staples in Mr. Obama's tie closet and this tie would fit perfectly into his collection. No-one can say that his choice of ties is boring and predictable but steadiness and reliability remain key features.
Level of attention: Attention are drawn by your character, not your tie. Message: I have a strong sense of self and I am trustworthy, reliable and steady. Price: Pricey. Seller: Vincenzo Boretti via Amazon
If ties could talk, this beauty by Versace would write a book. A clear message of no-nonsense power and leadership is carried with a strong sense of style, sophistication, and pride.
Level of attention: Top of the list, without having to say a word. Message: Power, leadership, trust, steadiness, style, sophistication. Price: Yep, of course, a man of your statue needn't look at the price of things. Seller: Versace via Amazon
Barack Obama loves wearing ties in navy, wine, and striped designs. This tie gets the message of leadership across while white and blue adds interests into the equation.
Level of attention: Good. Message: I am the leader. Price: Pricey. Seller: Tommy Hilfiger via Amazon
Solid ties in steady colors are a good way of getting a message of steadiness, trust, and reliability across to your audience. If you need all the trust but are not quite at a designer budget yet, this is the perfect solution to winning your audience without blowing your budget.
Level of attention: Solid ties are always high in attention. Message: I am solid as a rock. Price: Affordable. Seller: AimTrend via Amazon
Steadfast grays and traditional stripes needn't be boring. Though this tie has a monochrome color scheme, the impact of it is huge.
Level of attention: Up on top. Message: I give attention to details and I shine like few others, though I don't have to show off to get attention. Price: About what you would expect to pay for a designer tie with a strong message of leadership, style, and steadiness. Seller: Paul Malone Red Line via Amazon
Navy is always a great color for winning the trust of your audience. Adding a fine pinstripe windowpane detail gives just enough interest to break the color and of course, a designer brand tells the world that you know what you are doing, even in fashion.
Level of attention: Great, solid steadfast attention. Message: I don't waste my time on nonsense. Price: Pricey. Seller: Calvin Klein via Amazon
If you are going for elegance, few things say 'style' quite like the combination of steady neutral colors, simple design and a touch of gold. This striking tie in wine, gray and gold is suitable for a former president and will add character to your outfit too.
Level of attention: Steady, dependable, trustworthy without seeking attention. Message: I can be a great, solid leader. Price: Average. Seller: AimTrend via Amazon