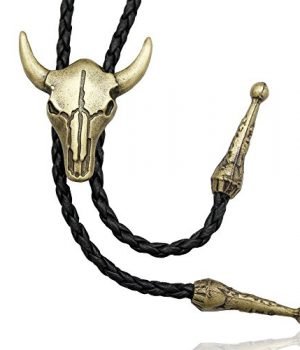 What is a bolo tie? Simply it is a pendant of varying decorations usually of a bull's head that holds together a black string. Essentially it is a tie that traditionally cowboys wear that are a cross between a tie and outstanding piece of jewelry that makes a bold statement for the wearer.
Generally it's worn with a cowboy outfit adding to the overall message that the outfit sends: masculinity, power, and natural prowess. However, bolos can be worn with a variety of outfits especially ones that are simple like a normal pair of jeans and plan shirt to make this attire interesting just like wearing a necklace. The jewelry aspect of the tie allows the wearer a chance to display their personality with either something simple and elegant or something bold and flashy.
They are also quite practical in that a normal fabric tie could tear or stain, but bolo ties don't have that problem. Why should you care though? Not everyone can pull of this Western and definitely not everyone should try.
But if you want to stand out and you're feeling confident, the bolo is for you. And I am here to tell you about some awesome new styles.
A practical choice. Cowboy neckties can deliver a punch to an outfit but they are also more practical that traditional ties when taken into account that they are often worn outside. While silk would damage and stain, western ties can look just as good on a horse than at a party.
They are made for flash. Cowboy neckties are made to be seen. If you are not ready to be bold, better stay with a plain white t-shirt. The beauty of a bolo tie lies in the combination of a simple string and fine jewelry.
The message is clear. Bolo ties often conveys a message and like a cowboy's buckle and boots, the choice is very personal and can vary from simple elegance to bold and flashy monogrammed pieces.
An elegant piece with a simple design is a good option for showing off your style without trying to compete with the tough guys in town.
Level of Attention: Good. Message: I can do both cowboy and modest. Price: Affordable. Seller: Chericom Store via Amazon
Add some color to your cowboy uniform with a bolo tie in a Native American Indian design.
Level of Attention: Good. Message: My heart says cowboy but I am proud to be American and like Native American art too. Price: Affordable. Seller: Ivory Falcon via Amazon
Cowboys and horses go together like salt and pepper. We love the detail and metal combination of this stunning piece.
Level of attention: High. Message: I am tough and I like my horse more than I like most people. You can approach me but don't waste my time. Price: Affordable. Seller: Kissvian via Amazon
A beautifully crafted flashy bolo tie is perfect to add a wow factor to anything from a plain white tee to a formal party suit.
Level of attention: Top of the range. Message: I am a civilized and well-mannered cowboy at heart that values detail, traditions, old-school respect and the finer things in life. Price: Affordable Seller: Kissvian via Amazon
If you are a cowboy that's rough around the edges and as tough as it gets, you better show your style with an equally rough and unique bolo tie.
Level of attention: Top of the range. Message: Do not mess with me. Price: Affordable. Seller: Q & Q Fashion via Amazon
A cowboy necktie is a proudly American piece of heritage and showing your patriotism is a part of who you are.
Level of attention: Top of the range. Message: I am an American and I am proud to show it. Price: Very affordable. Seller: Ivory Falcon via Amazon
Monogrammed cowboy accessories clearly say that you are the man around other men. You know who you are, you are proud of who you are and you will not settle for anything less than what you deserve.
Level of Attention: You are the man. Message: I am the man. Price: Higher but worth it. Seller: Scheppend via Amazon