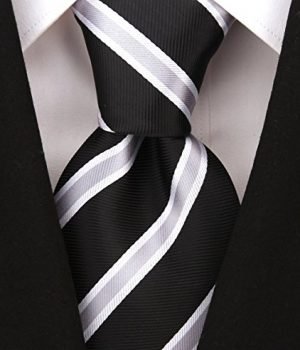 Congratulations on the promotion!
You now have a company parking space, your own office, a lot of new responsibilities, more money, and people who look up to you. For that reason you want to make a good impression, which means you have to look the part. That means a tailored suit, shined shoes, and of course, the perfect neck tie.
But finding that perfect tie can be difficult.
You need to find a tie that sends the right message. What selection of ties should you wear to send the message that you are reliable and strong, but are also open to new ideas? You want your wardrobe to reflect your position and all that it represents: class, style, and individuality. But how do you go about doing this?
There are so many questions. What colors and patterns should you choose? Should you go bold or more subtle? You have to think about quality too, which means you may have to shell out a bit of money, but it will be worth it. Here I have listed seven ties that are your best bet in sending the correct message with your tie, how much they cost, and where to find them.
Quality is key: Your business ties should definitely be of the best quality that you can afford and buying designer brands can help you make a better impression on both clients and superiors.
Choose your colors wisely: Work ties can add fun and interest to your outfit but if you want to gain the trust of your clients, sticking to strong yet subtle and neutral colors may work a lot better than wearing the bright yellow tie with the duck on it, to the office.
Design are as important as color: When you are choosing office ties that will make a good impression, rather opt for timeless and classical designs and save to wild and wacky for casual Fridays.
Here are seven ties that are perfect for showing both your boss and your clients that you are in control, reliable and the best man for the job:
An excellent and sturdy choice for any business meeting involves neutral colors, simple design and great quality.
Level of attention: Good. Message: Let's do business. Price: Somewhat price. Seller: Tommy Hilfiger via Amazon
If you have to wear a tie regularly, this is an excellent choice for adding a bit of variety to your collection. The cotton linen weave adds color and texture to any office outfit.
Level of attention: A bit more than normal ties. Message: Look at me, I have serious style. Price: Average. Seller: Proper Material via Amazon
Dressing for the office can quickly turn into a habit. Stocking up on ties in a variety of colors are a good idea when you have to wear a tie every day of the week. This checkered design can be worn over and over again without ever boring your co-workers. Oh, and at this price, you can afford one in every color of the rainbow.
Level of attention: Just a normal guy, on my way to work. Message: Who knew I clean up this good? Price: Very affordable. Seller: Dan Smith via Amazon
When it comes to office ties, simple strong designs in powerful but neutral colors are always an excellent choice. The message is that you are powerful, reliable and trustworthy. Who wouldn't want someone like that on their team?
Level of attention: Good. Message: I am sophisticated, reliable and strong. You can depend on me. Price: Average. Seller: Scott Allan via Amazon
While powerful colors and strong designs are good on most days, adding a little bit of unexpected fun to your work wear can show that you still have your own personality. This tie is the perfect combination of unexpected fun and color while still being formal and suitable for meeting those very important clients.
Level of attention: Hi there, I am a fun person. Message: Who knew someone as capable and professional could have an awesome personality too? Price: Pricey. Seller: SummerTies via Amazon
Being somewhat different than the rest is often a huge plus when it comes to the office. While the average guy wears a traditional silk suit, why not opt for a completely different knitted flat end tie to make sure that you are remembered.
Level of attention: Wow. Message: I am different than all the rest and that is why you need me on your team. Price: Pricey but worth it. Seller: Tommy Hilfiger via Amazon
In the world of business, it's seldom about who you are and usually about who you know. Well-planned use of designer brand ties can make the difference between 'just another guy trying to impress' to 'That impressive guy'. Though paying for designer office ties may sound a little rough, you will definitely reap the benefits in the future.
Level of attention: THAT guy.. Message: I am the man. I am perfect for the job and I will get it done perfectly. Price: Quite a few bucks but worth the investment. Seller: Versace via Amazon