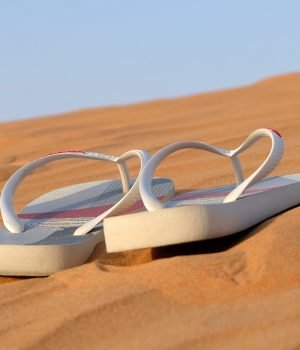 Do you ever think about your feet?
I'm sure you only notice them and their importance when they are hurting after a long day of standing and walking. But seriously they are very important to your everyday life, what with them letting you walk and stand with ease. But when your shoes don't fit properly or you are wearing shoes that actually damage your feet (heels) it not only hurts your feet, but the rest of your body too.
For example walking in heels puts a lot of stress on your knees, more stress than these critical joints were designed to take. It even makes you more tired at the end of the day. If you have chronic foot pain it may be a good idea to pay a little extra money to buy better shoes.
To help you find some better shoes we have created a list of some very comfortable shoes from which you can choose. So if you have aching tired feet, have a look at this article and try some of these shoes! If they don't help you, it's probably time to talk to a doctor and also stop wearing the heels no matter how cute they are.
We are saving you a lot of time and trouble; so have a look at these shoes for painful feet, order what you like and thank us later.

Good Bits:
The shoes are made of very fine fabric that is soothing to your skin.
It has a synthetic sole for comfort.
These comfortable lounging slippers are just perfect for the ladies.
These relaxing slippers are best to reduce stress on the feet.
It has a non-marking traction outsole.
There is an adjustable hook-and-loop closure that used to provide an easy "on and off" and a secure fit.
These slippers also have a flexible EVA midsole that absorbs shock, resulting in reduced stress on the feet, ankles, and knees.
These can also be used as indoor shoes because they have a fabric covered TPR outsole.
These shoes are ideal for people with plantar fasciitis and very pronated feet.
They have a good arch support.
Bad Bits:
The design is not very good.
The Velcro is not properly fixed and might come unstitched from the slippers after very little use.
These slippers are very expensive.
Final Verdict:
These are one of the best shoes for problem feet for people that have very pronated feet and heel problems. They are very comfortable and soothing to your feet. They might be a little expensive and not very fashionable but they definitely do their job i.e. provide the most comfortable space for your aching feet.
Good Bits:
These shoes have a synthetic sole.
These shoes also have faux-fur.
Faux fur textile upper
There is an EVA that is covered with faux fur. It is very lightweight and flexible midsole that aids in providing comfort.
The fabric is covered with TPR outsole.
The textile upper is accented with a luxurious jewel broach that looks really beautiful.
There is a hook-and-loop closure across the vamp of the shoes that helps in providing a custom and secure fit to the wearer.
The design is very innovative and provides superior orthotic support, relief, and stability. The structure of these shoes helps in realigning your feet back to their natural posture.
The color of the shoes is lovely and the embellishment is very promising.
The arch support is wonderful.
These shoes are fuzzy and warm. There is enough ventilation from the open toes so the shoes do not get too warm to wear.
Bad Bits:
There is a tag that rubs on your skin and makes it red and sore.
The fur starts to disappear, the quality is not so good.
These are very expensive.
Final Verdict:
These are very good and comfortable shoes for painful feet. They are best to wear indoors. You might need to wear socks every time your wear them because of the tag that feels uncomfortable and might make your skin sore. The price may seem too high but these slippers are definitely worth every dime.
Good Bits:
The fabric is very soft and soothing.
These are imported shoes that are of high quality.
These shoes have a synthetic sole that is very comforting.
These are flip-flop slippers that have plush upper and non-slip weatherproof outsole.
These slippers are available in a number of different women sizes.
These slippers are machine-washable and can be dried.
They are crafted with ergonomic engineering for your arches.
The price is economical.
Bad Bits:
The sizes are not accurate.
The colors are not fashionable.
Final Verdict:
These slippers can be used best in summers if your feet sweat a lot as they will keep your feet cool and dry at all times. These are perfect slippers for indoor use. They are very economical and best to be used for spas. They are machine-washable and can be dried. These are the best shoes if you want to feel relaxed and comfortable. You might have confusion in the size so you should be careful while selecting the size of these shoes.