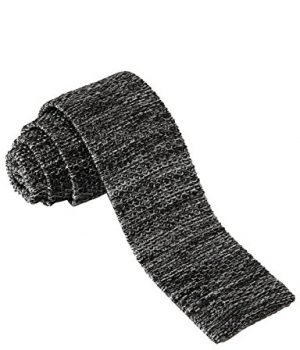 When you think of a tie you probably imagine a long strip of fabric ending in a point. This is the typical, classic tie. Now imagine you cut off the tip. Apparently this is a new trend. And you are a hip young person always on top of the latest fashions, so now you are looking for your own square end tie. You may be wondering why this has become a new fashion trend.
Maybe because of the message it's sending. What message are you sending with your blunted tie you ask. It shows that you are an individual that likes to try new things. It shows masculinity, that you are a man's man. How? Because it's different. It stands out. The shape at the end bucks tradition.
The length of the tie is sleek and thin and it has a rougher texture as they are woven or knitted instead of created with silk or satin. Ready to change your style? If you are interested in adding this kind of tie to your wardrobe I have found six great options for you with the price, where to find them, what level of attention you'd receive, and the message you'd send.
Here are a few things to think about:
It's sleek, trendy and Oh! So noteworthy. A flat bottom tie says something about the wearer. If you are a guy who is ready to try new things and like to be recognized as the individual you are, this is a trend that you definitely should try. It's not only the end of the tie that is different from traditional ties, the entire look, including color, texture, and width changes the message that you send to the world.
Texture, texture, texture. The square end tie is completely different from traditional silk and fine material ties. These ties are woven or knitted, resulting in the characteristic flat end and the resulting texture is amazing. With the help of a well chosen flat bottomed tie, you can add additional texture to your outfit to create interest. Make sure that you are remembered and choose the texture of your tie carefully.
The message is modern, trendy masculinity. Flat end. Rough knitted texture. Mat colors. Slim design. Though a shiny silk tie does not take away from any man's masculinity, adding some rough textures and strong lines to your outfit are more than enough to remind any woman that you are rough, tough and a real man.
Here are six great choices for adding square end ties to your wardrobe:
This smart casual 2" square end tie has moderate texture, a save color and lots of interest without shouting out at onlookers. It's a very good choice if you are still getting used to the flat-bottom tie trend.
Attention Level: Moderately high Message: I am in on the trend but I am not taking bold chances yet. Price: Affordable Seller: Angelshop via Amazon
Neutral color with loads of texture. This is a very manly square end tie and perfect for showing off both style and masculinity. Be prepared, handsome, you may get more female attention than you are ready for.
Attention Level: High Message: Yes, I am a real man and yes, I have lots of style too. Are you ready for all this? Price: Affordable Seller: Angelshop via Amazon
We love the texture detail of this tie created by the knit and color variation. Still a very manly choice in a neutral color with a modern twist on detail. Also, there are very few colors that won't work with this tie so it's the perfect choice for those really hectic mornings.
Attention Level: High Message: I am right on trend. Oh, but I can also protect you from spiders and other monsters. Price: Average Seller: H2H via Amazon
Wow, sir, are you prepared to be seen and not forgotten? This black and white beauty will impress to the level of being called 'That handsome guy with the tie'. Make sure that you live up to your first impression.
Attention Level: Lots. Message: Hey, you better get my name because you're not going to forget me. Price: Affordable, even in the middle of the month. Seller: Retreez via Amazon
You wanted to tell the world who you are, right? A gorgeous flat bottom tie in a vivid color will get the message over like few things else. Time to write your name in the history books.
Attention Level: You will be seen Message: I am proud to be me. Take me as I am or don't bother me at all. Price: Average Seller: Retreez via Amazon
The best of the best. Combining a flat end, excellent texture, bold manly colors and a strong design, this tie is right at the top of everything you want from a square end tie. Are you strong enough for this powerful tie? Of course, you are because you are a MAN!. Go for it.
Attention Level: As high as it goes Message: I am housetrained and I can dress myself but I am still a wild beast. Price: Average Seller: Retreez via Amazon