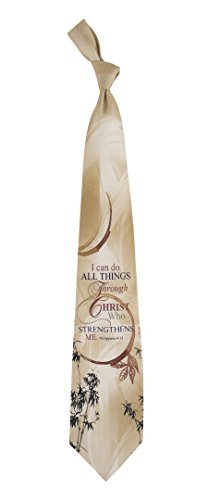 Looking your Sunday best. Put on your Sunday clothes.
These are both phrases that mean to look nice. Basically look like you want to talk to God today. For men, it's fairly simple. You put on a suit and tie with some nice shoes and you're set. If you go to church and you're a man then this is how you look your best, but it's always nice to inject a little levity into your style.
After all church is supposed to be a spiritual celebration, not a dour activity. Fortunately there are a variety of Christian ties out there that are both appropriate, colorful, and carry an uplifting message from different parts of the Bible. These ties are also good for regular wear. Don't worry about offending people. Few people will actually take offense to the messages on the tie, just like few people will be bothered by someone wearing a crucifix or any other religious symbol. In this article I have listed a few different kinds of ties that declare a hopeful message while also being stylish to match a formal occasion.
However when considering wearing these ties to church or to any other function you should think about these things:
The church is still a sacred place: While loud colors and fun designs are more easily accepted now than it was a hundred years ago, keep in mind that dressing for church still means dressing well and formally.
Deliver a Message of Hope: Using your tie to deliver a message is truly a great idea. Choose the message on your tie to deliver hope to those who need it. Keep it inspiring and uplifting. Wearing an inspiring tie will make you feel better about the world too.
You can have fun with design: Though you might like to refrain from wild cartoon characters and sayings, there is absolutely nothing wrong with a church tie in subtle colors with an interesting and eye-catching design. We are on earth to deliver a message but we are allowed to have fun and enjoy beauty too.
Here are 4 great options if you are looking for Christian ties to remind those you love about the Good Message:
Blessed are those who are kind-hearted, the peacemakers, those that are pure of heart and thirsty for righteousness. Matthew 5:3-12 brings hope for everyone who tries to find the King and live a good life, even through life's challenges. For they will receive a great reward in heaven.
Level of attention: Appropriate. Message: Hold on, you are doing good and there is Hope. Price: Pricey. Seller: Eagles Wings via Amazon
Who is Jesus? Is He your Rock? Your Saviour? Your Hope? Your Everything? We love both the message and the design of this tie. Dark colors with golden swirls remind us of the King that is our Rock.
Level of attention: Appropriate. Message: He is my Rock and my Everything. Price: Pricey. Seller: Eagles Wings via Amazon
"I can do all things through Christ who strengthens me": Philippians 4:13. A tie with a strong design and even stronger message. Tell the world where they can find strength.
Level of attention: Appropriate. Message: Find your strength in Christ. Price: Pricey. Seller: Eagles Wings via Amazon
For it is by grace you have been saved, through faith—and this is not from yourselves, it is the gift of God. Ephesians 2:8 carries a clear message of grace. Let your tie speak the words.
Level of attention: Appropriate. Message: You have been saved by grace. Price: Pricey. Seller: Eagles Wings via Amazon